allAgents were delighted to announce recently the results of their Annual Estate & Letting Agent Customer Experience Awards.
And we won the 2022 Gold Award for "Best Lettings Branch of the Year" in Woking!
These awards are entirely funded by allAgents. This means that no agent has been charged an entry fee and allows everyone on their directory to be automatically entered, making this the UK's largest FREE customer awards scheme for agents working within the property industry. By keeping these awards FREE ensures that the winners have achieved award recognition based entirely on feedback from clients rating and sharing their customer service experiences.
The results are based on reviews posted during the period 1st September - 31st August for the Agent Awards and Branch Awards. Reviews have been grouped by capacities, lettings ( Landlord, tenant, property management/repairs, prospective lettings customer). The agent must meet a minimum review target of their 4 star band, which is an average rating of 3.5 or above.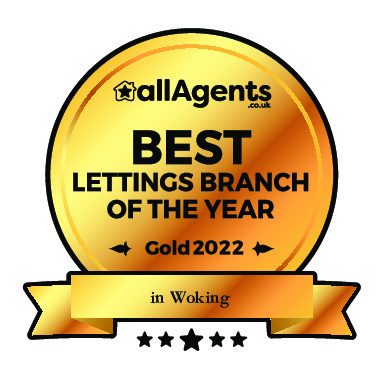 Nick Griffiths, Director of Sales and Lettings said:-
"I am delighted that, for yet another year, our hardworking and dedicated staff have achieved this award and recognition based entirely on feedback from clients who have rated and shared their customer service experiences on allagents.co.uk, the UK's largest customer review website for the property industry."
Click Here to View Our Testimonials