Friends of Goldsworth Primary School are hosting their annual Summer Fayre!
Plenty of Summer Fun in the sun!
When: Saturday 30th June 2018 12pm to 3pm.
Where: Goldsworth Primary School, Bridge Barn Lane, Woking, Surrey, GU21 6NL.
We're Proud Sponsor's of Goldsworth Primary School's Summer Fayre for 2018!
This is one of the biggest events of the year for the school! Plenty of fun for children & grown ups alike! Summer fun in the sun! With stalls and many, many other fun things to do!
£1 Entry For Adults - Free Entry For Children & OAP'S!
As ever, Goldsworth Primary School have a fantastic range of stalls and activities with something for everyone. By the Key Stage 1 classrooms you'll find Toys, Books & Plants stall, Pick a Spike, Jolly Jars, Adopt a Pet, Adult Tombola, Snap-a-Fish, Deadly Top 10, Welly Throwing and the under 5's inflatables!
Over near the Key Stage 2 classrooms there will be the Hot Food Stall, Meerkat Skittles, Crush the Critter & Hook a Duck, Cakes, Snacks & Hot Drinks, Ice-creams & Cold Drinks, Silent Auction & Raffle, Decorate a Cap & Tattoos, Slide & Bouncy Castle, Beat the Goalie, Pupil Parliament with Jail Stocks and the Bar!
Manners Residential Sponsorship Boards
We'd like to give a big thank you to those of you who have agreed to have displayed one of our striking sponsorship boards outside your house advertising the Summer Fayre.
It's a fantastic opportunity for us to help to raise a significant amount of money for the school.
If you see one about we'd love to see a photo of it so feel free to tag our Facebook Page as well as Friends Of Goldsworth Primary!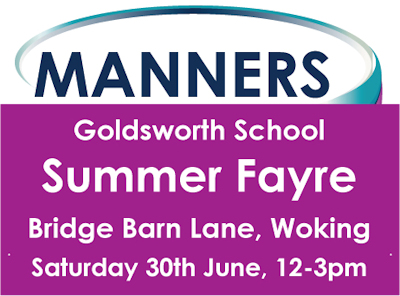 About Friends Of Goldsworth Primary School
The Friends of Goldsworth Primary School is the Parent Teacher Association (PTA) organisation involved in raising funds to provide extra facilities and equipment for the children of Goldsworth Primary School in Woking. It is an essential part of school life. Without it, the school would not have received tens of thousands of pounds of additional funds over the past few years.
The events they organise raise vital funds which enable the school to purchase additional facilities and equipment which enhances the learning experience of the students. They are currently funding new sports kit, syllabus-based murals and posters and they are looking at options for an all-weather track around the field.
For more information please visit the Friends of Goldsworth Primary School website by clicking here.