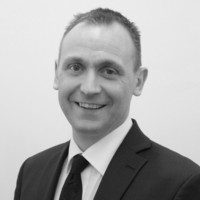 James Manners MARLA & MNAEA
Managing Director
Tel: 01483 590059
James started his career in estate agency as an office junior in 1986, and has been selling, letting and managing residential properties all his working life.

It was always his ambition to own his own business, and in 2000 James founded Manners Residential as a specialist lettings agency to deal with the fledgling buy to let market. Little did he know the size of the wave he was about to ride!

With years of experience, and an abundance of knowledge of the Woking property market, James is in a perfect position to advise on letting, selling and buy to let in Woking and the surrounding areas.

But don't just take our word for it, here are some genuine comments from one or two of our clients:-

"I first met James at Manners Residential just over 17 years ago in the early days of his lettings agency, for what was my first venture-toe first- into the buy-to-let market. James was extremely generous with his time and his abundant expertise, and has constantly remained so throughout all my dealing with him and his company. He and his team are extremely responsive, very well informed, professional and they always go the extra mile for both the tenant and the landlord. More recently when it came to selling a couple of properties one in Woking and one in Guildford, Manner's did an outstanding job- especially Clare who deserves a special mention. They were extremely proactive, and gave a great very competitively priced service, and one of the sales was really quite tricky, but they were amazing at keeping the show on the road as it were. I guess being in the lettings business gives them the added advantage of really caring and understanding about the bigger picture, reputation and longer term relationships. So, if you are letting, renting or selling, based on my long standing association I would recommend them without hesitation."
JH - United Kingdom

"I have had dealings with Manners Residential since 2006 who have acted as Managing Agents for all our rental properties. We have always found James to be a true professional in his field with the ability to give sound constructive advice when approached for assistance or guidance, particularly when considering a buy to let purchase as we have done on many occasions. We were particularly impressed when, having met up with James to re-market one of our properties in the morning, we received a call to confirm an offer had been made that same afternoon! We would not hesitate to recommend Manners Residential and would like to thank all the staff for their help in the past."
MF - United Kingdom

"I have worked with Manners for many years. They have always provided me with a good, professional service in the general running of my Lettings. They balance the needs of the landlord and tenant to try and be fair to both. James in particular goes that extra mile with professional advice in extraordinary circumstances, for example, the purchase and sale of properties. Manners knows its customers and treats them as individuals who need individual attention. They are an excellent company to deal with, balancing approachability with professionalism."
SKK - United Kingdom

"Dear James,

It's very nice to hear from you personally and I should apologise for not getting back to you until now. In the fast moving busy times we live in, we tend to concentrate on dealing with the negative, however, occasionally I do write reviews for products and services where I think it will be of benefit to someone who may be in a similar position to us. Perhaps you can make use of some of my thoughts below.

The primary commendation that I have for the services you provide to us is trust. I feel comfortable that I can completely rely upon Manners to provide me with accurate, concise, honest information relating to any matter so that I am able to make quick decisions on how to proceed in any given situation. With the recent necessary refurbishment work Manners acted with the utmost integrity, trying to accommodate the wishes of the tenants whilst at the same time ensuring that the work could be scheduled and completed in a reasonable timeframe. Manners negotiated, communicated and dealt with all parties involved very professionally.

Over 15 years in Japan, we have come to expect the highest levels of service and don't make time to commend those that we come to rely and depend upon as we tend to take this as the norm. I'm very relieved that I don't have to think any differently about the level of service that Manners provide and can relax and not worry knowing that Manners will confidently and professionally deal with all matters arising.

Thank you and best regards"
MF - Japan

If you have a property to rent out or sell, or if you would like some buy to let advice then contact James by completing the form below.
---